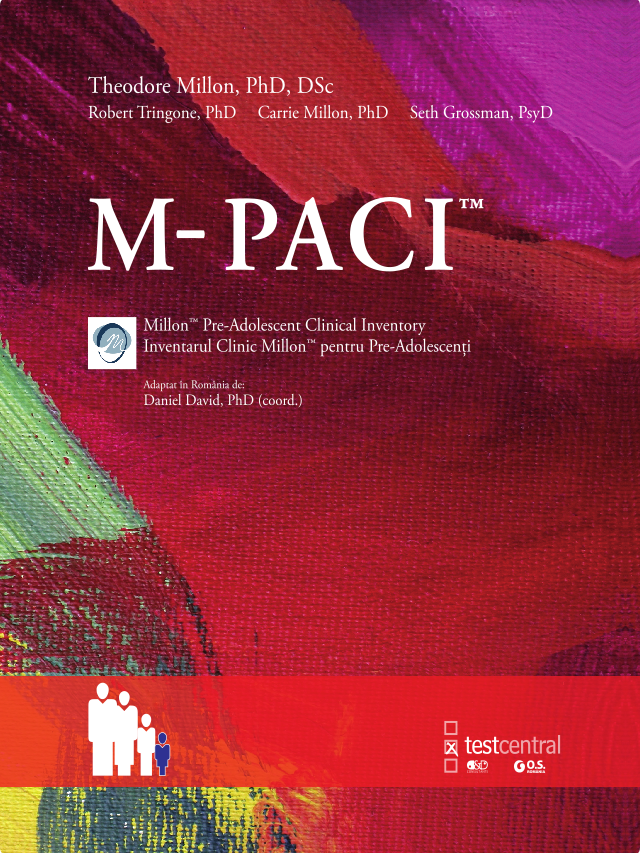 Despre test
Millon Pre-Adolescent Clinical Inventory (M-PACI) este un instrument comprehensiv special creat pentru a ajuta specialistul în domeniul sanatatii mintale sa identifice corect problemele psihologice ale copiilor cu vârsta de 9-12 ani. Spre deosebire de instrumentele care se axeaza pe o singura arie, cum ar fi anxietatea sau depresia, evaluarea cu M-PACI ofera o viziune integrata, care sintetizeaza stilurile de personalitate emergente si sindroamele clinice, ajutând specialistii în detectarea semnelor timpurii ale tulburarilor corespunzatoarea Axei I si Axei II.
M-PACI ajuta la o interventie timpurie în vederea ameliorarii dificultatilor aparute în preadolescenta si care neidentificate pot conduce la probleme mai mari în viitor. Poate fi utilizat atât în evaluarea preadolescentilor internati, cât si a celor din ambulatoriu, de catre psihologi, psihiatri, consilieri si alti specialisti în domeniul sanatatii mintale. Inventarul se dovedeste util la:
- evaluarea preadolescentilor cu probleme în vederea confirmarii ipotezelor diagnostice
- planificarea tratamentului individualizat prin oferirea unei imagini integrate a patternurilor de personalitate emergente si a semnelor clinice curente
- masurarea progresului înainte, în timpul si dupa tratament
M-PACI contine 97 de itemi, cu raspuns Adevarat-Fals. Completarea dureaza 15-20 de minute si necesita un nivel de întelegere a cuvântului scris de clasa a treia.
Scalele M-PACI
Instrumentul este creat de Dr. Therodore Millon, o personalitate marcanta în domeniul dezvoltarii personalitatii, pornind de la propria sa teorie comprehensiva. Scalele componente sunt:
Sapte Patternuri de personalitate emergente:
- Supus
- Sociabil
- Încrezator
- Insubordonat
- Conformist
- Inhibat
- Instabil
Sapte Semne clinice curente:
- Anxietate/Frica
- Deficit de atentie
- Tendinte obsesiv-compulsive
- Probleme de conduita
- Comportamente disruptive
- Dispozitie depresiva
- Distorsionarea realitatii
Doi Indicatori de validitate a raspunsului:
- Invalidare
- Caracterul negativ al raspunsului
| | |
| --- | --- |
| Abreviere | MPACI |
| Data publicării | 2010 |
| Populația vizată | copii |
| Forma de administrare | Individuală, Autoevaluare |
| Vârsta | 9-12 ani |
| Volumul eșantionului | 252 |
| Calificarea necesară | C |
| Durată | 15-20 de minute |
| Tipul itemilor | itemi cu răspuns Adevărat-Fals |
| Numărul itemilor | 97 de itemi |
Esantionul normativ românesc M-PACI a avut un volum total de N=252 de persoane cu vârsta cuprinsa între 9 si 12 ani, dintre care un numar de N=175 (72.4%) sunt de gen masculin, iar N=77 (30.6%) sunt de gen feminin.
Culegerea datelor s-a desfasurat între iunie 2008 si ianuarie 2009. Esantionul este reprezentativ pentru populatia cu vârsta de 9-12 ani cu patologie clinica, neinstitutionalizata si institutionalizata. Evaluarile s-au desfasurat în scoli, clinici si spitale.
M-PACI dispune de etaloane pe gen. Etaloanele sunt prezentate sub forma unor scoruri base rate (BR). Scorurile T, de exemplu, care prezinta o medie de 50, o abatere standard de 10 si o distributie a scorurilor similare pentru toate scalele inventarului, poate masca orice diferenta ce ar putea exista între prevalenta în realitate a atributelor masurate de inventar. Spre deosebire de scorurile T, scorurile BR reflecta prevalenta relativa în esantionul normativ a caracteristicilor pe care le masoara.
Manualul românesc este o traducere si adaptare dupa manualul original american. Contine 114 pagini si capitole referitoare la: fundamentarea teoretica a M-PACI, dezvoltarea inventarului, caracteristici psihometrice, administrare, scorare si interpretare.
Manualul este însotit de o brosura de adaptare a instrumentului pentru populatia româneasca, care prezinta rezultatele studiilor efectuate asupra esantionului normativ românesc referitoare la fidelitatea si validitatea M-PACI, precum si etaloanele românesti (în scoruri BR).
Manualul nu este disponibil decât pentru utilizatorii cu licenta, achizitia lui este obligatorie la achizitia primei licente pentru un psiholog.
Daniel David este profesor "Aaron T. Beck" de psihologie clinica si psihoterapie (stiinte cognitive clinice) la Universitatea Babes-Bolyai din Cluj-Napoca, Seful Catedrei de Psihologie Clinica si Psihoterapie din Universitatea Babes-Bolyai, presedintele International Institute for the Advanced Studies of Psychotherapy and Applied Mental Health, al Colegiului Psihologilor din România, filiala Cluj si al Asociatiei de Psihoterapii Cognitive si Comportamentale din România. Daniel David preda si la prestigioasa institutie medicala Mount Sinai School of Medicine, New-York, SUA.