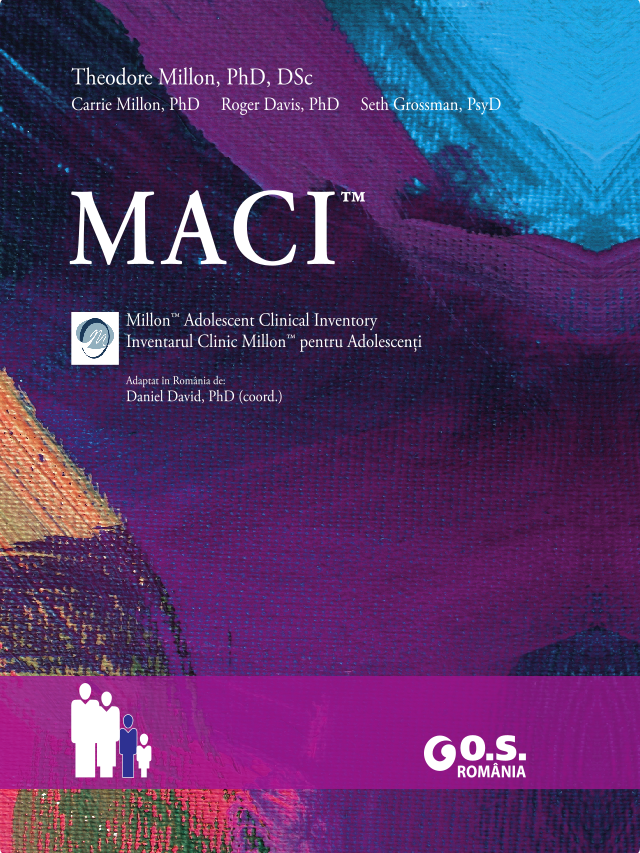 Instrument psihometric de evaluarea multiaxială a caracteristicilor de personalitate și a sindroamelor clinice la adolescent, comform simptomatologiei DSM-IV.
Millon Adolescent Clinical Inventory (MACI)este un inventar de autoevaluare elaborat în mod specific pentru evaluarea caracteristicilor de personalitate si a sindroamelor clinice la adolescenti. Testul MACI a fost dezvoltat în colaborare cu psihiatri, psihologi si alti specialisti din domeniul sanatatii mintale cu experienta în lucrul cu adolescenti. Prin urmare, acestea reflecta problemele cele mai relevante pentru întelegerea comportamentului si preocuparilor adolescentilor. Este foarte util în mediul clinic, institutional si corectional.
Psihologii, psihiatrii, psihologii scolari, din domeniul judiciar si alti specialisti în domeniul sanatatii mintale vor gasi acest instrument versatil esential în:
- evaluari amanuntite în vederea confirmarii ipotezelor diagnostice;
- elaborarea de planuri de tratament individualizate;
- masurarea progresului înainte, în timpul si dupa tratament.
Inventarul MACI se distinge de alte instrumente clinice prin caracterul sau succint, baza sa teoretica, formatul multiaxial, constructia tripartita si schema de validare, utilizarea scorurilor BR si profunzimea interpretative.
Inventarul se adreseaza adolescentilor (vârsta 13-19 ani) si necesita un nivel de întelegere a cuvântului scris corespunzator clasei a sasea. Contine 160 de itemi cu raspuns Adevarat-Fals, fiind mult mai scurt decât alte instrumente comparabile. Testul este autoadministrabil. Cei mai multi dintre adolescenti termina completarea testului în 25 de minute, aspect care minimizeaza rezistenta adolescentilor. Astfel, MACI faciliteaza obtinerea unei cantitati maxime de informatii cu un efort minim din partea respondentilor.
Instrumentul MACI are la baza o teorie coerenta în domeniul personalitatii si psihopatologiei, crescând semnificativ valoarea interpretativa a inventarului. Scalele de personalitate reflecta variantele tulburarilor de personalitate adulte, rafinate prin modelul autorului, Dr. Theodore Millon. Niciun instrument diagnostic disponibil în momentul de fata nu este atât de consonant cu nosologia oficiala ca testul MACI. Mai mult, scalele MACI sunt grupate pentru a reflecta distinctia din DSM între Axa II si Axa I. Astfel, exista scale separate care disting între caracteristici de personalitate durabile (Axa II) si tulburari clinice mai acute (Axa I). Profilurile bazate pe toate scalele pot fi interpretate pentru a întelege influenta reciproca între patternuri de personalitate durabile si simptome manifestate curent. Printre factorii masurati se numara unii adesea asociati cu adolescenta, printre care Disconfort sexual, Predilectie spre consumul de substante, Tendinte suicidare si Disfunctii alimentare.
MACI contine 31 de scale:
Doisprezece Patternuri de personalitate (Axa II):
- Introvertit,
- Inhibat,
- Trist,
- Supus,
- Dramatic,
- Egoist,
- Insubordonat,
- Puternic,
- Conformist,
- Opozitionist,
- Auto-devalorizare,
- Tendinte borderline.
Opt Preocupari exprimate, care evalueaza sentimentele si atitudinile în legatura cu probleme care tind sa preocupe majoritatea adolescentilor cu probleme:
- Identitate difuza,
- Auto-depreciere,
- Dezaprobare corporala,
- Disconfort sexual,
- Insecuritate în raport cu covârstnicii,
- Lipsa interesului social,
- Neîntelegeri în familie,
- Abuz în copilarie.
Sapte Sindroame clinice frecvent întâlnite la populatia adolescenta:
- Disfunctii alimentare,
- Predilectie spre abuz de substante,
- Predispozitie spre delincventa,
- Tendinte impulsive,
- Trairi anxioase,
- Trairi depresive,
- Tendinte suicidare.
Trei Indici de modificare, meniti sa evalueze stilul de raspuns al persoanei evaluate:
- Dezvaluire,
- Dezirabilitate,
- Devalorizare.
Testul mai ofera si rezultatul unei scale de validitate, precum si a câte trei Scale fateta Grossman pentru fiecare dintre cele 12 Patternuri de personalitate. Scalele fateta Grossman ajuta clinicianul sa aprofundeze utilitatea MACI prin identificarea domeniilor cele mai problematice pentru adolescent, oferind astfel un ghid optim pentru terapie si consiliere.
- Scala Introvertit: Expresie impasiva, Apatic temperamental, Neangajat interpersonal;
- Scala Inhibat: Expresie agitata, Aversiv interpersonal, Imagine de sine alienata;
- Scala Trist: Temperament trist, Expresie neconsolata , Pesimist cognitiv;
- Scala Supus: Docil interpersonal, Temperament pacifist, Incompetent expresiv;
- Scala Dramatic: Cautare de atentie în relatiile cu ceilalti, Imagine de sine sociabila, Instabil cognitiv;
- Scala Egoist: Imagine de sine admirabila, Expansiv cognitive, Exploatator interpersonal;
- Scala Insubordonat: Impulsiv expresiv, Mecanism demonstrative, Iresponsabil interpersonal;
- Scala Puternic: Dur interpersonal, Precipitat expresiv, Mecanism de izolare;
- Scala Conformist: Disciplinat expresiv, Respectuos interpersonal, Imagine de sine constiincioasa;
- Scala Opozitionist: Imagine de sine nesatisfacatoare, Expresie plina de resentimente, Interpersonal contrar celorlalti;
- Scala Auto-devalorizare: Neîncrezator cognitive, Imagine de sine nefavorabila, Temperament disforic;
- Scala Tendinte Borderline: Temperament labil, Capricios cognitiv, Imagine de sine incerta.
| | |
| --- | --- |
| Abreviere | MACI |
| Data publicării | 2010 |
| Populația vizată | copii și adolescenți |
| Forma de administrare | Individual, Autoevaluare |
| Vârsta | 13-19 ani |
| Volumul eșantionului | 200 |
| Calificarea necesară | C |
| Durată | 25 de minute |
| Tipul itemilor | itemi cu răspuns Adevărat-Fals |
| Numărul itemilor | 160 |
Esantionul normativ românesc MACI a avut un volum total de N=200 de persoane cu vârsta cuprinsa între 13 si 19 ani. Un numar de 92 de participanti (46% din esantion) au avut vârsta cuprinsa între 13 si 15 ani, iar 108 participanti (54% din esantion) au avut vârsta cuprinsa între 16 si 19 ani. Un numar de 124 persoane (62%) din esantion au fost de sex masculin, iar 76 (38% din esantion) au fost de sex feminin.
Culegerea datelor s-a desfasurat între iunie 2008 si ianuarie 2009. Esantionul este reprezentativ pentru populatia cu vârsta cuprinsa între 13 si 19 ani, cu patologie clinica, neinstitutionalizata si institutionalizata. Evaluarile s-au desfasurat în scoli, clinici si spitale.
MACI dispune de etaloane pe gen. Etaloanele sunt prezentate sub forma unor scoruri base rate (BR). Scorurile T, de exemplu, care prezinta o medie de 50, o abatere standard de 10 si o distributie a scorurilor similare pentru toate scalele inventarului, poate masca orice diferenta ce ar putea exista între prevalenta în realitate a atributelor masurate de inventar. Spre deosebire de scorurile T, scorurile BR reflecta prevalenta relativa în esantionul normativ a caracteristicilor pe care le masoara.
Manualul românesc este o traducere si adaptare dupa manualul original american. Contine 173 pagini si capitole referitoare la: fundamentarea teoretica a MACI, dezvoltarea inventarului, caracteristici psihometrice, administrare, scorare si interpretare.
Manualul este însotit de o brosura de adaptare a instrumentului pentru populatia româneasca, care prezinta rezultatele studiilor efectuate asupra esantionului normativ românesc referitoare la fidelitatea si validitatea MACI, precum si etaloanele românesti (în scoruri BR).
Manualul nu este disponibil decât pentru utilizatorii cu licenta, achizitia lui este obligatorie la achizitia primei licente pentru un psiholog.
Despre coordonatorul manualului românesc MACI
Daniel David
este profesor "Aaron T. Beck" de psihologie clinica si psihoterapie (stiinte cognitive clinice) la Universitatea Babes-Bolyai din Cluj-Napoca, Seful Catedrei de Psihologie Clinica si Psihoterapie din Universitatea Babes-Bolyai, presedintele International Institute for the Advanced Studies of Psychotherapy and Applied Mental Health, al Colegiului Psihologilor din România, filiala Cluj si al Asociatiei de Psihoterapii Cognitive si Comportamentale din România. Daniel David preda si la prestigioasa institutie medicala Mount Sinai School of Medicine, New-York, SUA.