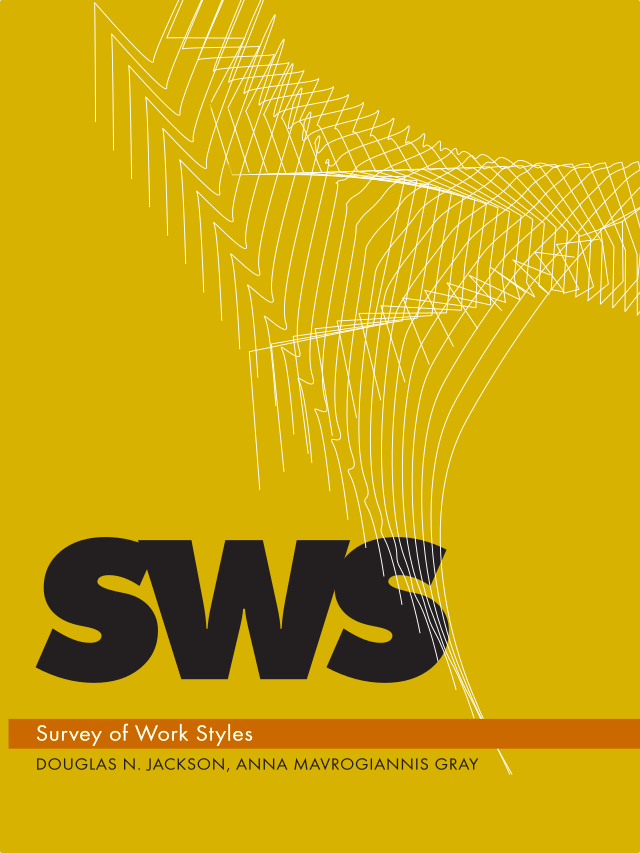 Ce este SWS®?
SWS® este un instrument autodeclarativ cu 96 de itemi, creat special pentru evaluarea unui număr de șase dimensiuni aferente modelului de comportament de tip A (Type A Behavior).
SWS® a fost dezvoltat într-o încercare de a răspunde necesității resimțite de psihometricieni de a avea la dispoziție un instrument de măsurare a modelului de comportament de tip A, axat pe auto-evaluare, bazat pe o abordare cantitativă parcimonică în termeni de resurse implicate. Așadar s-a căutat crearea unui instrument care să fie economic, convenabil și obiectiv și care să aibă proprietăți psihometrice solide, comparativ cu instrumentele existente. Necesitatea unui astfel de chestionar a fost semnalată de diverși autori (O'Looney et al., 1985), dar și de instituții profesionale cum ar fi Comitetul de lucru privind comportamentele care conduc la boli cardiace (Review Panel on Coronary-Prone Behavior and Coronary Heart Disease, 1982).
Pentru mai multe detalii, consultă secțiunile Scale și Caracteristici pe pagina testului.
---
Cui se adresează și pentru ce este recomandat SWS®?
SWS® este cel mai frecvent folosit în coaching, development, în cercetări centrate pe tema stresului ocupațional și mai ales în promovarea unui stil de viață sănătos în contexte de business și I/O. Fiind un instrument de clasă B, acesta poate fi utilizat cu precădere de persoanele care dețin studii de specialiate în psihologie sau științe asociate, fie experiență specifică.
---
Care sunt particularitățile SWS®?
ACREDITARE CPR. SWS® este recomandat de Colegiul Psihologilor din România și a primit în 2006 avizul pe o perioadă nedeterminată pentru domeniile de utilizare: psihologia muncii şi industrial-organizaţională; psihologia aplicată în servicii; psihologie educaţională; consiliere şcolară şi vocaţională.
UNICĂ MĂSURĂ A MODELULUI DE COMPORTAMENT DE TIP A. Există un interes crescând pentru studiul modelulului de comportament de tip A (Type A Behavior Pattern) ca factor de risc mediat profesional pentru bolile cardiace, dar și pentru diverse alte afecțiuni. Modelul de comportament de tip A a fost caracterizat printr-un viguros manierism verbal și psihomotor, un simț cronic al urgenței, asociat sentimentului constant de lipsă de timp, furie și ostilitate provocate cu ușurință, spirit competitiv accentuat, nerăbdare extremă și o luptă agresivă pentru a reuși (Jenkins, Zyzanski & Rosenman 1978).
Ce este SWS®?
SWS® constă din șase subscale, fiecare conținând 16 itemi unici. Subscalele sunt denumite:
Nerăbdarea (Impatience),
Furia (Anger),
Implicarea în muncă (Work Involvement),
Sentimentul lipsei de timp (Time Urgency),
Insatisfacția legată de serviciu (Job Dissatisfaction),
Competitivitatea (Competitiveness).
SWS® oferă de asemenea un scor general pentru comportamentul de tip A, bazat pe suma celor șase subscale și un scor secundar de tip A, bazat pe itemii consonanți cu acele elemente care în Interviul Structurat Rosenman (Rosenman et al., 1975) se constituie în predictorii cei mai coerenți. Scorarea SWS® se face computerizat, iar profilul este format din indicii numiți mai sus, raportați în forma brută și în centile, precum și din informații legate de elementele de descriere verbală, comportamentală a profilului.
---
Profiluri demonstrative
SWS®
| | |
| --- | --- |
| Revizie BUROS | DA, in J. C. Impara & B. S. Plake (Eds.), The thirteenth mental measurements yearbook. |
| Abreviere | SWS® |
| Data publicării | 2006 |
| Populația vizată | adulți |
| Forma de administrare | Individuală/ Grup, Autoevaluare |
| Vârsta | peste 18 ani |
| Volumul eșantionului | 1500 |
| Calificarea necesară | B |
| Durată | 15-20 minute |
| Tipul itemilor | itemi verbali, cotați pe o scală Likert cu 5 trepte |
| Numărul itemilor | 96 |
Eșantionul normativ al SWS®
Adaptarea SWS® în România s-a făcut pe o perioadă de 14 luni și este perfect conformă cu normele de transpunere culturală recomandare de ITC. Ea a plecat de la o traducere pe bază de panel de specialiști, secondată cu diade consecutive de translatori, lucrând sub rigorile procedurii double-blind. Echivalența formei românești cu cea originală, aproximată pe baza a 6 diade de translatori, este de .972. SWS® a fost validat în România prin raportarea la criterii comportamentale, pe un eșantion general, dar și pe un eșantion specializat de N=150 manageri de top.
Eșantionul normativ din România este format din N=1500 de subiecți, dintre care 750 de femei și 750 de bărbați, fiind reprezentativ la nivel național, pentru partea de populație activă în muncă. Eșantionul acoperă din punct de vedere geografic întreaga țară și este controlat pentru conformitate pe cotele sex, vârstă, educație și statut ocupațional ESOMAR. Vârsta minimă reprezentată în eșantion este de 18 ani, vârsta maximă de 85, iar media calculată pe întregul eșantion, pe variabila vârstă, este de 34.97.
Achiziționează acest produs